Here is an overview of what your Business Dashboard consists of.
Business Portal Dashboard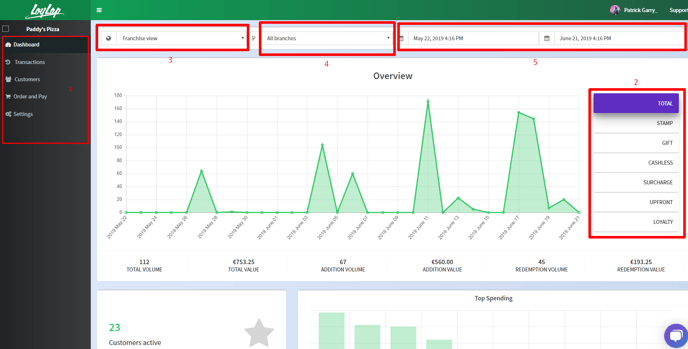 1. Navigation bar: allows you to access different sections of your Business portal. You should go ahead and explore these sections and familiarize yourself with the layout.
2. Transaction view: Selecting an option here, changes the data represented in the dashboard. If an option is unavailable or greyed out, chances are that you haven't activated that feature yet. Contact support@loylap.com to learn how you can activate all features.
3. Franchise View: If you own more than one Franchise, then a list of all those franchises will be available here.
4. All Branches: A list of all active branches is displayed in this section. Selecting an individual branch will show you the analytics of that branch.
5. Date Range: Select the TO and FROM date range to view the analytics between a particular date range.
Now that you are familiar with the interactive area of your dashboard, you should go ahead and experiment with different filters and how these affect the way your KPI's are displayed in the dashboard.
You can now measure the following KPI's on your dashboard:
Customers active
Top spending
Total customers
Age group
Gender Ratio
Cards in circulation
Gift Cards overview
We highly recommend engaging with the dashboard. You can use the insights you gain from the dashboard to shape your Business Decisions. Get in touch with our Customer Success team to learn how you can use the Business Dashboard to learn more about your Business.